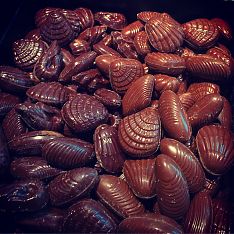 I have recently returned from Paris, where I spent two weeks visiting a dear friend in Montmartre while endeavoring to learn first-hand about the Parisian food experience. The French people can be counted on to express pride in the traditions of beautiful food which they, understandably, see as the only proper way to eat. As such, it is difficult to find badly prepared food in Paris, which boasts a timeless beauty and superlative excellence in many corners both lauded and hidden.
Although my trip felt lamentably short, I did find time to learn and rediscover. Despite an abundance of pastries and rich sauces, the food I encountered in Paris reminded me that it is not necessary to rely on salt (or even butter) in savory dishes, nor to lean excessively on sweeteners in desserts, as long as the ingredients you use have the greatest integrity possible. 
It is, however, necessary to wander a bit aimlessly in Montmartre, as long as you keep your eyes open. You may be approached by the same sketch-artist repeatedly on the cobblestone streets, but it is only once you've recognized that you've already approached a certain stairway and fall of flowering ivy from a different direction that you begin to understand how the alleys twist as they cling to the hillside.
I also learned that France is a country where mealtimes must not be confused. If one were to sleep through breakfast and lunch, for example, these meals are simply missed – you mourn them and move on. It is unthinkable, even blasphemous, to sever a meal from it's corresponding notch in the continuum of time, which is to say that lunch cannot simply be pushed back a few hours and be expected to retain it's character. Instead one begins to plan a delicious goûter (think afternoon snack) and dinner. 
Speaking of time, many shops are closed on Sundays, and in the case of the best boulangerie I visited (Du Pain À Des Idées), sometimes also on Saturdays. It is generally understood that all people need and deserve time to sleep, recharge, and enjoy life, despite the dismay of foreigners who are surprised to find work and rest regarded as equally vital. 
It is with all of these values in mind that I have returned to the vocation of cooking revitalized, ready to restructure some business practices in an effort to improve my service, and monumentally excited to offer a new selection of classic Parisian dishes in my menu.
Enjoy!