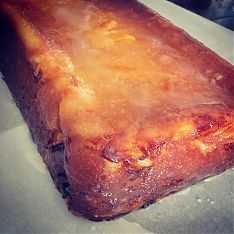 'Waste not, want not' is the sentiment upon which all cuisines are built, and all of the most celebrated, soulful food adventures have been based on the ingredients staring back at some cook as they peer into their pantry.
This recipe takes the last bits of some quick-breakfast staples (in this case, whole fat yogurt and fruit canned in juice) that were crowding my refrigerator and uses them to make a simple coffee cake extraordinarily golden on the outside and custardy within.
I created this cake recipe on a whim, and wouldn't have changed anything about it. Enjoy!
~Peach Coffee Cake Recipe ~
Combine:
1/2 cup coconut oil, melted
1/2 cup sugar
1/2 tsp cinnamon
1 tsp vanilla
Add:
2 eggs
2/3 cup yogurt (plain, whole fat)
Sift in:
1 tsp baking powder
1/2 tsp salt
1 cup flour
Chop & Add:
2/3 cup peaches (canned, with juice)
Pour Batter Into Buttered Loaf Pan
Topping, Combine & Sprinkle Over:
2/3 cup flour
1/2 cup brown sugar
1/2 tsp cinnamon
1/3 cup melted coconut oil
Bake for 1 hour at 350 degrees
Drizzle: Combine & Brush Top & Bottom
1/4 cup yogurt
1 tablespoon maple syrup
1 cup powdered sugar