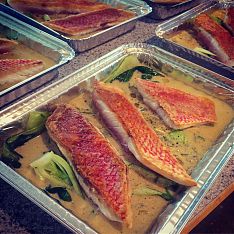 Galangal and kaffir lime leaves can be found frozen at your local Asian specialty market, and are worth procuring. Everything else can be found at the grocery store, and if you don't see snapper be sure to ask for it. Most of the time this catch will come to the store after having been frozen on the boat, and if it can be thawed immediately before preparation and not left languishing at the fish counter, so much the better. This is a light and delicious dinner, and you can serve it over rice if you wish.
Ingredients:
Red Snapper & Bok Choy:
Red Snapper Filets (2)
Baby Bok Choy (6)
Flour (1/4 cup)
Olive Oil (3 Tablespoons)
Salt & Pepper 
Thai Coconut Broth:
Ginger (2 inch piece)
Garlic (4 cloves)
Galangal (2 inch piece)
Kaffir Lime Leaves (2)
Lime Juice & Zest (1/2 lime)
Mint (1/2 cup)
Basil (1/2 cup)
Chives (1/2 cup)
Coconut Milk (1 can)
Vegetable Broth Base (1 teaspoon)
Heavy Cream (1 tablespoon, optional)
Onion (1 small) chopped & caramelized)
Method:
Thai Coconut Broth:
Wash and peel ginger, set aside the smaller knobs and peels and slice the rest. 
Sear ginger peelings in a hot saucepan with a little oil along with sliced galangal, two kaffir lime leaves, two cloves of garlic (smashed), along with the stems and bruised leaves from the mint and basil, and the trimmed ends of the chives.
Once these are getting browned and aromatic, add three cups of water and your vegetable broth base, bring to a simmer, and allow to reduce down to two cups. (This may take over an hour). Add coconut milk and reduce again until slightly thickened. Strain into a clean bowl, add caramelized onion and allow to cool to room temperature. 
Finely chop or combine in a food processor your remaining two cloves of garlic, sliced ginger, chopped basil, chives, mint, lime juice and zest. Add this mixture to cooled broth, along with heavy cream, if desired. Season with salt & pepper to taste.
Red Snapper & Bok Choy:
Trim and discard the cut ends of bok choy, allow the outer leaves to separate and halve the heart lengthwise. Then wash thoroughly in two changes of cold water to remove any sand and grit, and dry thoroughly on a clean kitchen towel.
Slice snapper into one-inch thick slices on the bias (always cut into filet side, not the skin side). Dust the skin sides only in flour seasoned with salt and pepper and sear in olive oil over medium-high heat, skin side only just until crispy. Carefully set aside (skin side up). The filet side of the fish will still be raw at this point.
In the same hot pan, add bok choy and cook until the leaves are wilted and stems are slightly softened. Spread bok choy in a baking dish, pour broth over, and place snapper (skin side up) over the top. At this point the dish can be tightly covered and refrigerated or frozen.
To serve, bake uncovered for at 350 degrees for 15-20 minutes until fish is just cooked through, and enjoy!