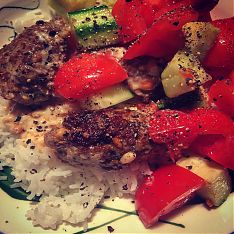 When local gardens become jungles the best produce can be found (cheap) at every roadside, and sometimes even abandoned on your doorstep unannounced. 
It's easy to eat a lot of tomato toast and cucumber salads – for awhile. Suddenly you realize that a perfect Caprese salad isn't as exciting as it should be. The gorgeousness of the long-awaited harvest has almost jaded us… almost.   
This is the ideal time to de-mystify a cooking style you want to eat at home more often, and in my case I was eager to jump on the Middle-Eastern bandwagon, a trendy style of fusion representing the melting pot of cultures spanning a swathe of the world from Tunisia to Greece. 
The following recipe is adapted from Jerusalem, one of several beautiful books of recipes from Yotam Ottolenghi and Sami Tamimi, which I highly recommend: spiced meatballs with warm tahini sauce, toasted pine nuts, and a drizzle of butter. 
Served with pita or basmati rice, this dish is the perfect vehicle for beautiful chopped cucumbers and tomatoes. It will be a hit even with the uninitiated (imagine the flavors of a gyro sandwich) and it is the perfect way to rediscover your late-summer harvest.
Ingredients:
Kofta:
1 pound ground lamb or beef
3 tablespoons toasted pine nuts
3 cloves garlic
1 small onion
1 large hot chili pepper 
1 tablespoon fresh thyme, finely chopped (optional)
2 tablespoons parsley, finely chopped (optional)
1 teaspoon each: salt, pepper, cinnamon, & allspice
3 tablespoons vegetable oil (for browning)
Tahini Sauce:
3 tablespoons tahini 
2 tablespoons fresh lemon juice
2 tablespoons water
1 clove garlic, crushed
1/4 teaspoon salt
For Serving:
3 tablespoons toasted pine nuts
3 tablespoons melted butter or ghee
1/2 teaspoon sweet paprika
Method:
Tahini Sauce:
Finely mince garlic, then crush with the side of your blade, scraping gently against your cutting board until your garlic clove is a pulpy mess. Combine thoroughly with tahini, lemon juice, water, and salt, and chill until ready to use.
Kofta:
If you are fresh-toasting your pine nuts for your kofta and sprinkling at the end I recommend doing this first, in a dry skillet over medium heat until they have just a few brown edges, and always keep a close eye on toasting nuts – they tend to burn the instant they are forgotten.
Combine garlic, onion, and chili pepper in a food processor until finely minced, adding the pine nuts for just a few more seconds until roughly chopped (or you can do this by hand). 
Add this mixture to your ground meat along with your salt, pepper, cinnamon, allspice, and fresh herbs, combine thoroughly by hand, and form into oblong meatballs about two inches long. Chill until ready to fry.
Add oil to a heated skillet over medium-high heat and fry kofta about one minute each, turning twice so you get three browned sides. The meat should be only slightly undercooked at this point. 
Set kofta aside until almost ready to serve, then pour tahini sauce over and bake at 375 for 3-5 minutes until the meatballs are cooked through and the sauce is warmed. While they are cooking, melt or warm your ghee or butter. 
Remove kofta from the oven, drizzle them with melted butter, and sprinkle them with pine nuts, paprika, and more fresh herbs if desired. Serve with cucumbers, tomatoes, and rice or fresh pita.