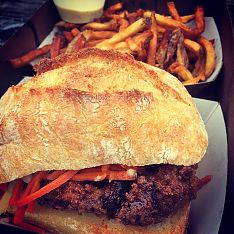 I have decided (after numerous close inspections) that this menu staple is more of a bánh mì with a soul food focus than a po'boy made with ginger in the carrot slaw: That is splitting hairs at a food truck specializing in the comforting, on-trend fusion of South Asian and Southern cuisines (with constant allusions to the French influences which suffuse both) but at this place that is obviously the point.
This sandwich is served on a beautiful crusty roll, like a bánh mì. The honey drizzle is a classic addition to fried chicken, and the addition of chipotle pepper is a nod to hot chicken which also cuts the bitter edge off the sweetness. The fried chicken itself, or rather the perfectly spiced fry mix, is always crunchy.
The fry mix was also great on the frog's legs I sampled which came with lemon herb aioli, and the chicken skins (yes, just the skins) which came with smoked olive oil and basil aioli. Let's not underestimate the role of aioli (also known as beautiful mayonnaise) in the overall success of both this sandwich and Dolce VT as an enterprise: The truffled shoestring fries also come with aioli – whichever one is on tap that day.
Find these delicacies at the Truck Stop at ArtsRiot on Friday nights, or out front on Pine street on seemingly random weekdays: You'll just have to stalk Dolce VT on Facebook like the rest of us.