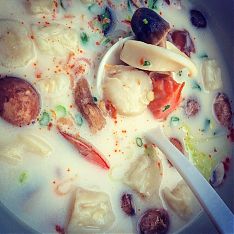 There are a lot of ways to order Cargo Soup at Asiana Noodle Shop – that's the point. You get to choose your broth, the style of your noodles, your favorite protein. I admit that I have only ever tried it one way because I immediately decided that I had found the best soup in town. (Yes, I've tried the Chop Your Head Off soup at A Single Pebble and I know it's sublime, so you don't need to write me any letters).
The best way I can describe the Tom Kha is – perfect. The warmth from the galangal, a ginger relative (Tom Kha literally means galangal soup) adds more depth than spice, and mixed with the round sweetness of the fatty coconut milk it lulls you into contentment. The kaffir lime leaves and lemongrass add acidity while the chilis and cilantro add notes of a more pungent spice than the galangal, but that could be true of any Tom Kha. The difference is found in the impeccable balance in this recipe – if anyone has been living in the same town as this dish without trying it, please stop depriving yourself.
Now for the most important bit: you have an option to add siu-mai dumplings to your soup – by all means, do it. You may have already tried this dim-sum staple as an appetizer dipped in sweet-salty sauce and concluded that they are delicious but forgettable: try them again, this time soaked in the broth that I have just extolled. The subtly sweet shrimp filling, once it is saturated in that complicated warmth, is somehow even more perfect than the broth alone – very worthy of obsession: may it be my last bite of food on earth.