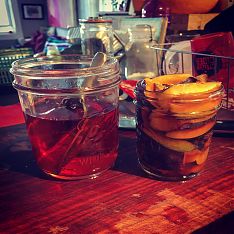 A good vinaigrette can forge a path from highly perishable ingredients (black plums and basil leaves, for instance) to a versatile condiment that can last weeks in the fridge or months in the freezer. There are endless possibilities: Any vegetable, starch, or protein can be tossed in this lovely goo. You can (obviously) dress salads and dip warm bread in it, but you can also marinate meats, finish roasted veggies or caramelized onions, or substitute it for pizza sauce. You will have enough to try everything, and remember you can freeze small portions (plastic sauce cups or ice cube trays are ideal) to enjoy these warm-weather flavors all winter long.
The first step outlined below is to pickle the plums (which really does create a uniquely sparkling flavor and cold-hardy texture) but if you are working on a less glacial timeline feel free to substitute fresh plums and cider vinegar for the pickled plums and pickling liquid. If you take this shortcut, however, be doubly sure to taste your final product for correct seasoning and follow your instincts. Is the vinegar too strong? Add oil and honey. Is it hard to taste the plums and basil? You probably need more salt. Above all, trust your own palate: be bold and mighty forces will come to your aid!
Black Plum Refrigerator Pickles
Ingredients:
2 Black Plums
1/2 Cup Cider Vinegar
3 Tablespoons Water
3 Tablespoons Honey
1/2 Teaspoon Salt
1/2 Teaspoon Red Pepper Flakes
Process:
Wash, dry, and slice plums, and fit them into a clean dry jelly jar.
Bring the rest of the ingredients to a boil in a small saucepan, let cool slightly and pour over the plums.
Will keep refrigerated for up to a month.
Basil & Pickled Plum Vinaigrette
Ingredients:
1 1/2 Cups Basil Leaves
1/4 Cup Pickled Plums
1/4 Cup Plum Pickle Liquid
1/4 Cup Honey
2/3 Cup Olive Oil
1 Tablespoon Dijon Mustard
1 Teaspoon Salt
1 Teaspoon Pepper
Process:
Combine all ingredients in a food processor and purée until smooth. Season to taste, adding more honey if necessary.